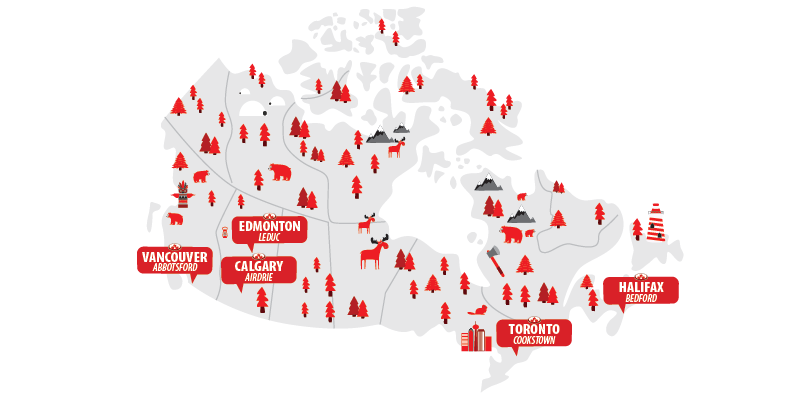 All locations closed on Sundays and Statutory Holidays.

Question About Your Rental?
Visit Our Frequently Asked Questions.
OnRoad Support
If you experience any issues with your RV during your trip, please contact Four Seasons RV OnRoad Support Service:
Tel.: 1-604-636-3057
Toll Free*: 1-866-535-6601
Email Us
*Toll-Free only available from North American land line.
OnRoad Support Service hours are: May to Mid-October (Thanksgiving weekend)
Monday – Saturday: 4:00 am – 9:00 pm PST
Sundays and Holidays: 6:00 am – 6:00 pm PST
Please note that the time zone for above hours is that of British Columbia and Yukon (Pacific Standard Time or UTC−8, daylight saving time: UTC−7)
During the off-season, please contact your rental station directly.
24/7 Ford Roadside Assistance for engine/mechanical/towing only! 1-800-665-2006
24/7 KalTire Roadside Assistance for tire service only! 1-888-525-8473
KalTire is not available in Newfoundland, Labrador, New Brunswick, Prince Edward Island, and Nova Scotia!
After hours or when all our OnRoad Agents are serving other customers, please leave a voice message and we will get back to you as soon as possible. The same applies should you prefer to contact us by email.
Please have the following information ready in order for our support team to assist you as efficiently as possible:
Your RENTAL AGREEMENT NUMBER (Can be found at the top left of your rental agreement) or your UNIT NUMBER (Can be found on your key tag)
Your exact current location
Your further travel plans
Please describe the problem as detailed as possible.